Building a chatbot can feel overwhelming. What is important? What isn't? What should I keep an eye on? In our latest blog post, we've gathered 10 cool chatbot examples to inspire you.
Chatbots are one of the hottest current trends in customer service. Is it just because they are cool? We don't think so.
During the last few years, chatbots have experienced tremendous growth. The automation layer they provide helps teams improve their efficiency while alleviating the extra workload generated by repetitive requests and tickets.
No wonder why almost every business out there that deals with huge amounts of support requests has implemented or is considering the implementation of a chatbot or conversational platform to automate customer interactions.
However, undertaking such a project is no piece of cake. It requires:
Goals
KPIs
Knowledgeable UX designers
Interaction or conversation designers…
Overall, starting a new chatbot project might be overwhelming. Therefore, we've decided to list 10 chatbot examples across different verticals and business types to show best practices and simply cases where companies nailed the chatbot project.
---
Chatbot examples in the travel & leisure industry
Tourism, hospitality, and leisure companies have been extremely touched by the Covid pandemic, with thousands of canceled flights, hotel bookings, and more. In a world where social distancing is still somewhat present, many companies have decided to take a step forward and implement automated customer interaction solutions to manage the huge amount of customer support requests.
As one of the major Airlines in South America and Brazil, Gol Airlines was struggling to keep up with responses for all customer support requests.
Their support team realized many of the interrogations customers were facing were really similar.
Most the questions were related to Covid-19 local and travel restrictions, PCR tests, flight cancellations and status and so. The team at Gol was spending countless hours repeating answers that could have been easily automated.
With their virtual assistant, Gal, they cover customer support 24/7. Plus, GAL handles roughly a ⅓ of the total number of inquiries and has no less than an 85% retention rate. In 2020, the chatbot received almost 900,000 inquiries and handled 90% of them on its own.
Some of the great features:
It is connected with the Airlines systems. In the 3rd screenshot, we see how anyone can check flight statuses by entering the flight date and either its number or origin and destination. This gives more visibility to passengers, families, and companies awaiting passengers' arrivals.
It also works as a knowledge base, guiding passengers on how to check-in and explaining other travel processes step-by-step.
It provides multiple options whenever the topic is too broad and narrows it down by suggesting different topics for the user to choose from.
If you want to read more about Gol's project, check out our Case Study.
TravelClub is the leading reward program in Spain with over 6 million subscribers. With regular purchases in partner businesses and over 200 online stores, subscribers can get discounts for travel and leisure experiences.
To offer a better service to their 6 million customers, TravelClub decided to implement a virtual assistant in their app and website. Using Natural Language Processing, the chatbot, named Laura, is able to suggest different products and offers to TravelClub users, answer repetitive questions and escalate issues to a human agent when necessary.
Some of the great features of TravelClub's chatbot:
The chatbot has a human image. This is one of the features that many chatbots don't have. Of course, personality is also seen in conversations and more, but just by calling the chatbot Laura and adding a small image, it already conveys a more human image of the bot.
It uses verification processes. Sometimes, the chatbot might not have a lot of content (that ultimately depends on the content you feed it with in order to answer all requests appropriately), but if you use verification sentences, you can guide your chatbot to the right piece while keeping the user interested. Also, it adds a step where the chatbot isn't just throwing content at the user but really tries to listen and provide the best answer its knowledge database can provide. For instance, if the user types "I can't make it on the day of my flight", the chatbot might ask "Do you want to change your flight date?" before explaining to the user how to do it. This extra layer helps confirm the intention of the user.
Stubhub is an American ticket exchange and resale company. It serves as a platform to buy and sell tickets to different events like sports matches, music concerts and theater plays, among other activities.
The company has grown to be one of the largest ticket marketplaces in the world, with over 10 million events in over 40 countries.
Due to their large number of visitors, Stubhub was looking for a way to cater to some markets in a more automated way. This is why they included a chatbot on their Spanish website.
Some of the great features:
It includes a voice search feature. This allows users to ask their questions on the go as if they were talking through a phone with a human agent.
It tailors the chatbot content according to the answer to a first question regarding whether the chatbot user is a buyer, a seller, or another kind of user.
It solves the lack of availability of a human agent by adding the option of sending a contact form at all times during the chatbot conversation in case the automated conversation fails.
---
Chatbot examples in the utility industry
The utility sector has seen a huge increase in individual customer support requests. With more and more employees working from home and the preference of reducing physical contact, energy companies have realized the need to offer an automated digital channel to facilitate communication between agents and customers and improve overall satisfaction while increasing self-service rates.
Naturgy, formerly Gas Natural Fenosa, is one of the largest utility companies in Spain, but it operates in over 30 countries around the world.
With over 5.5 million customers in Spain, there is no wonder why Naturgy implemented a chatbot to efficiently answer all customer support requests.
Especially in Covid and post-Covid times where customers prefer less face-to-face support, chats have become the new and easy-to-use channel for customers to reach brands and companies.
Their chatbot, Pepe, is really able to answer all sorts of questions and the knowledge base behind it is simply very well prepared, thorough and regularly update. When we ask Pepe, for instance, how can we see our electricity invoices, he suggests different invoice-related topics like "when can I see or access my invoices" or "Can you help me understand the invoice?" (first screenshot). Once we click on the 2nd option, for instance, it answers with a link to a page. The side bubble gives us more information on what we'll find if we click on the link.
On this second screenshot, we asked Pepe why has the price of electricity gone up, and he suggests several topics, the main one relating to the new law on power consumption.
When we click on the option, he explains what the new regulations are, and he opens a side bubble prompting us to ask him about the new energy consumption timeframes. This helps users know when is it cheaper to do their laundry.
Some of the great features of Naturgy's chatbot:
The chatbot serves a dual purpose, as it answers both pre-sales and after-sales requests.
The messaging is engaging and includes visual cues such as emojis, bullet points, and more to attract the eyes of the visitor.
It is used to raise awareness and increase the reach of current discounts and promotions.
It leverages side-bubbles to expand information without making the user scroll endlessly.
It recommends related pieces of content at the end of the answer provided to the user.
The content is regularly updated. Just a few weeks ago, Spain raised the price of power consumption and changed the timeframes where peaks of electricity consumption are less expensive. This has created some doubts, but Naturgy has reacted quickly and added the content regarding new timeframes and more in the blink of an eye, which increases the value of their chatbot solution.
It collects user feedback about the answers, which helps the team dedicated to the project adapt the answers and focus on pieces of content that are not performing as expected.
It assists users on transactional operations, showing users, for instance, how to change their current fees or plans step by step.
The French power and gas provider Butagaz, which formerly sold butane and propane gas, has been also offering natural gas and electricity to individual customers since 2017.
This expansion has made it difficult to deal with all of the incoming requests in a timely manner. Sometimes agents are busy handling complex tasks or requests and no one wants their customers to feel forgotten.
Automation is perfect for these cases, as it helps prevent frustration from the customers' side while freeing time for agents to work on harder cases.
Butagaz chatbot can answer simple questions in real time, but also, and most importantly serves as a tool to prevent losing any leads or customers.
Some of the great features of Butagaz's chatbot:
The chatbot sees past typos. If we look at the first screenshot, we can see the user asked "How much does a bottle of gazç' cost?' There is a typo there. However, even with the typos, the chatbot understands the meaning behind it and provides an answer.
The answers meet the needs of different audiences. Another thing that the chatbot manages quite well is the target audience. When a company sells both to final customers and also professionals or companies, the answers might not be the same depending on the final customer. In this case, when the chatbot doesn't know the profile of the user, it provides an answer with both options: "If you are a professional, you might want to click here. If you are an individual, you will find the fees here."
---
Chatbot examples in the retail industry
2020 was definitely the year for eCommerce. Despite thousands of physical stores closing their doors due to covid and an extremely low annual foot traffic, brands realized it was time to increase the share of online sales and started improving their websites even more.
The fact many stores were closed during the most part of the year led to customers choosing online channels to address their concerns, questions, or inquiries to the customer service team (on the online site). These teams were sometimes small and were overwhelmed by the huge online support demand, which led many retailers to implement new automated channels to deal with the biggest part of the requests. As a matter of fact, up to 90% of the most frequent requests can be automated through a chatbot. So, how did it go? We've gathered a couple of examples below :). Also, if you'd like to read more on automation for eCommerce, we have an amazing guide you can download here.
Benefit is one of the most well-known brands in the cosmetic industry. A subsidiary of LVMH, Benefit sells cosmetic products in over 30 countries and 2,000 counters.
Being a leader in the industry, Benefit works to provide the best customer service possible, no matter the channel the consumer uses. Therefore, they decided to implement a solution that could help them be more reactive regarding possible questions their customers and website visitors could have.
Using their well-known pink color palette, they created their website chatbot, that looks like this: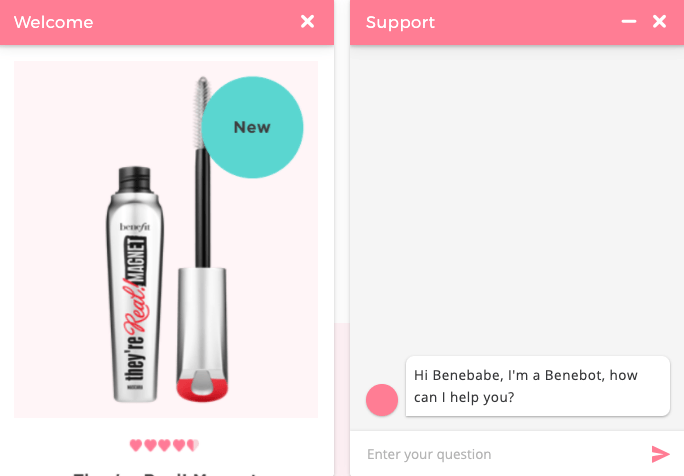 Some of the great features of Benefit's chatbot:
It helps increase mailing list subscriptions by recommending joining the customer list.
It suggests more than one piece of content whenever different topics may apply to a specific keyword.
It has a well-thought tone-of-voice, that creates a sense of belonging with the consumer, i.e. "Sorry, gorgeous".
It can redirect traffic to a human agent. Also, whenever human agents aren't unavailable, it provides information regarding the working hours when agents may be joined.
It features new products as a way of increasing visibility and sales of that featured product.
It can redirect you to similar products to increase conversion and avoid site abandonment, if you ask for a product and it's not available, as in the screenshot.
Eroski is a supermarket chain with nearly 1,000 outlets. It is run as a worker-consumer hybrid co-operative, with stores largely varying in size (from large supermarkets to smaller city markets).
They sell a large variety of products, but what makes this example remarkable is the fact they operate their supermarket website in 6 languages (Spanish, English, German, Basque, Catalan, and Galician).
Being a large supermarket, they are likely receiving tons of questions from their consumers, from product-related inquiries, to order status requests and much more.
A virtual assistant allows them to deliver the necessary content to thousands of consumers in a quick and efficient manner without intervention from customer service agents.
Their virtual assistant is available in 5 of the 6 languages of their site, just excluding German.
This example, as you can see, is somewhat different from regular chatbots that allow free text. You'll see no textbox for users, but it still works like an easy-to-use knowledge base that helps increase self-service, and we thought it was a good example to show how different approaches can lead to different experiences.
Some of the great features of this chatbot example:
The virtual assistant approach. This approach is definitely not suitable for all kinds of companies, but, in some cases, it might be extremely interesting and useful. It helps consumers navigate through the available content on the site while avoiding unnecessary, out-of-topic, or even inappropriate questions. This certainly has some limitations, but the guiding approach can also apply to a more conversational chatbot. If you want to know more about conversation design and UX, we have an awesome podcast you might want to listen to.
The options are highly visual. We, humans, are attracted to visual content. If we show options in a highly visual manner, the chances of a user clicking on them are much higher.
The journey allows users to go back to former questions or options displayed without needing to quit and restart the assistant, an essential action that sometimes is forgotten during the setup.
It includes step-by-step processes like a knowledge base would have, which is extremely useful to guide users through hidden options and save the user experience whenever a page is not easy to find or a step is not clear enough.
---
Chatbot examples in the manufacturing industry
The manufacturing industry has the tendency to follow innovation trends at the slowest pace. This doesn't mean there aren't out there manufacturing companies that are disrupting their industry. In the case of customer service and aftersales, it is critical to provide support and guide product users whenever they are in need of help. That's why during the past few years many manufacturers have set up customer success strategies to improve the way they communicate with the final consumer. We'll show you one good example of this here below.
Not only retailers can educate about products using chatbots. Manufacturers also have products that need some support and retailers that sell them don't always have the answers.
That's why companies like Schlage, an American lock manufacturer, implement chatbots on their page.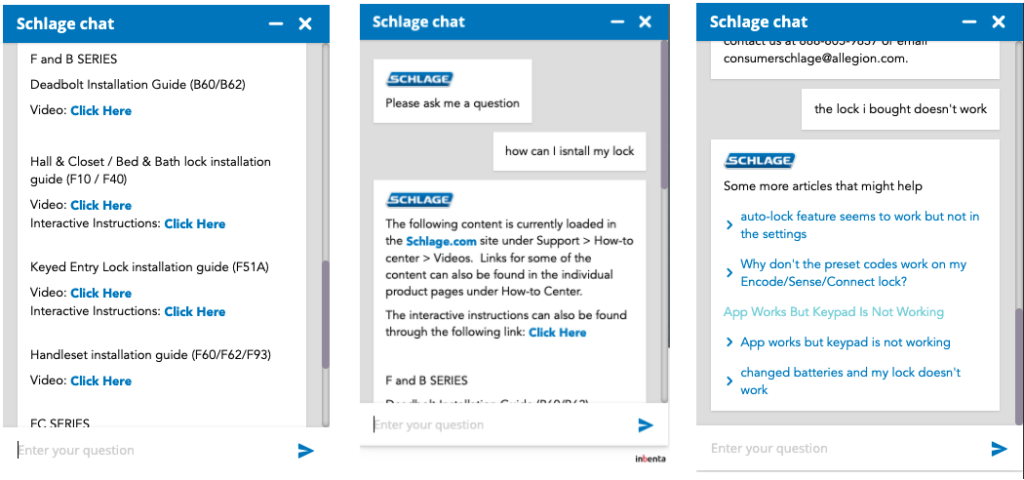 A few interesting features of the chatbot:
When I typed in "How to install my lock", it saw past my typo ("isntall" instead of install), which ensures that no question will be lost only due to a misspelling.
It educates product buyers with how-to videos. Now here it gets interesting. Just by asking how can I install my lock, I got a full series of videos that will guide me through it. The only thing I need to do is click on the link of my relevant purchased lock and it sends me to a Youtube step-by-step Installation Guide. Could it be more effective?
It tries to get more information from customers. In the third screenshot, instead of just saying "Hey, this is too broad of a subject", it tries to get the user to identify with more detail the issue he/she is having.
---
Chatbot examples in the healthcare industry
Healthcare is one of the areas that has suffered the biggest disruption since Covid came in. Virtual appointments had been promoted for a few years before the pandemic hit us, but they didn't really attract the attention of care seekers until then.
With hospitals going beyond their typical workload and healthcare professionals near to burnout, virtual appointments have allowed patients to access non-urgent consultations with a doctor without the need to commute or spend time in public transportation. Of course, these consultations can never replace a physical examination from a doctor, but they have certainly been of help in difficult times.
Also, many patients have general, frequently asked questions, that could be easily answered without a doctor's help. Chatbots provided a first layer of support and help to hospitals, medical centers, and insurance companies for non-urgent matters. Below you can find a good example of how DKV health insurance company leverages its chatbot.
DKV is a health insurance carrier that operates in several countries like Belgium, Spain, Andorra, and others. The insurance has around 900K subscribers and 40K doctors available.
On their website, we can play with Nauta, their chatbot.
Their conversational AI solution is able to answer simple and more complex questions regarding their insurance policies, medical staff, and more.
Their chatbot is only in Spanish for now, but it has some interesting features:
It acts as a salesperson linking to an insurance cost calculator for visitors considering the subscription and asking for a price.
It answers insurance questions we sometimes can't easily find online without a thorough search. For instance, 'Am I covered when traveling?'
It handles complex requests really well. For instance, if we ask Nauta to find us an appointment with a traumatologist in Barcelona, it asks a few questions regarding the type of appointment (virtual or face-to-face), it verifies the specialization area and the location and then automatically filters the results, creating a link to a page where you can find only the relevant doctors.
It adds empathy and a human layer to conversations using emojis, informal expressions, and things like "Let me think for a minute…" which mimics the reactions a human agent could have.
---
Chatbot examples in the logistics industry
With eCommerce on the rise, logistic companies and couriers have put all their efforts to keep providing the best service possible despite the pressure and the increasingly high number of parcels to deliver.
However, the lack of agents to attend to all tracking requests, changes in delivery, and more, has made it practically impossible to keep up. Some package delivery companies have decided to implement chatbot solutions to cater to all requests and improve the quality of the service they provide.
Below there is an example that shows how it's being done.
The Spanish Post (Correos) is the state-owned company responsible for providing postal service in Spain and, thanks to agreements, is also in charge of mail services in Andorra together with the French post company La Poste.
It has over 10,000 postal centers all over the country and 7.4 million deliveries a day, which means a huge demand for customer support regarding parcel and letter delivery and status.
Therefore, they've included a virtual assistant on their site to help customers navigate procedures and requests while answering basic questions without the need for agents to intervene.
Some of the great features:
It adds side bubbles to expand the information in an easy-to-consume way.
Tracking your parcels and letters is easy, you can do it just by providing the bot the tracking number.
The links included in the answers can be clicked and opened in a different window while still having access to the chatbot history on the new window.
Their content database is quite complete, so it is able to answer different questions in a simple way, for instance, "How much value can I insure my parcel for?'
---
Bonus: Chatbot examples in real estate
As technology advances, more and more industries are taking the road to conversational AI chatbots.
One of them is real estate. During Covid and after, the real estate has peaked and millions of properties have been sold and acquired. The real estate industry has its own challenges: changing regulations, lots of documents and paperwork, and so, which makes it hard for new homeowners, tenants, landlords and more to get access to up-to-date information. Conversational AI chatbots are an awesome tool to provide information and enable simple transactions.
Avail, part of Realtor.com®, is a Chicago-based company developing free landlord software to help with rental property management. It helps advertise rentals, access lease agreements, collect rent, and more.
The platform also provides a complete set of tools, guidance, educational content to give landlords everything they need to be confident and professional.
The Avail Virtual Assistant helps both tenants and landlords navigate the platform and the rental process.
Some of the great features:
It understands queries even when they include typos, as we see in the first screenshot.
Verifies the intent with a confirmation question, as we see in the second example.
Includes media, such as images, to help users better visualize what they need to do.
The chatbot is draggable. Sometimes a chat box can prevent you from seeing the actual website content behind. This chatbot is draggable, which means you can move it in order to keep reading the website without closing the chatbot session.
There aren't universal learnings that can be applied to any chatbot project, but there are a few in the list that might be relevant to what you're trying to achieve.
Make sure you know your goals and your audience, and that you have a team to update the chatbot database whenever necessary.
We can help you navigate the process, so if you need a hand, we can schedule a 15 or 30-min call with you to discuss what you have in mind. We're here to help!